Notes
Thank you ...
Special thanks to our new principal Corporate Sponsor DPS Engineering who are committed to the Choir for three years commencing January 2016, and also to our new Corporate Partner Spirit Motor Group.

Next Concert
To be announced ...
The next concert will be announced soon.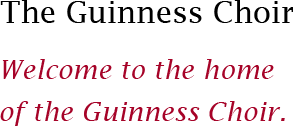 Introduction
The choir, formed in Dublin in 1951, has developed an extensive repertoire of classical and modern works, and John Dexter, who succeeded Victor Leeson as musical director in 1984, continued this tradition. David Milne has been musical director since 1991.
Many distinguished Irish and international soloists have sung with the choir over the years. The Guinness Choir is also committed to supporting emerging Irish talent and in recent years many young singers have appeared with the choir.
The repertoire of the choir spans the centuries from early music to the present day - from Monteverdi's 1610 Vespers through to Andrew Lloyd Webber's Requiem, John Rutter's Psalmfest, Gerard Victory's Ultima Rerum and Rhoda Coghill's Out of the Cradle.
Our Sponsors

DPS
Engineering
DPS is a global engineering and project management company, serving industries around the world.
DPS is Irish owned and managed. Headquartered in Dublin, it has 1200 employees based in its offices in Ireland, the UK, the USA, Belgium, The Netherlands, Saudi Arabia, Israel and Singapore.
The group provides the full range of engineering services including design and build; commissioning and qualification; construction and project management; and managed services. These are delivered to the world's leading technology companies across pharmaceutical, biotechnology, medical and advanced technology (including nanotechnology) and the oil and gas sectors.
The Guinness Choir is delighted to have the support of DPS Engineering as our principal Corporate Sponsor.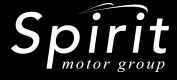 Spirit Motor Group
Based at their central facility at Sandyford, South Dublin, the Spirit Motor Group is one of Ireland's leading distributors for the prestige marques - Jaguar, Land Rover and Volvo. More recently the Spirit Group has added further dealerships - Ford (including Ford Commercial) and Skoda.
These brands epitomise the discerning driver seeking top quality performance that will endure and retain its value over the long term.
Spirit is noted for a commitment to excellence and service and prides itself on its high level of repeat business from its loyal customer base.
The Guinness Choir is delighted to have the support of Spirit Motor Group as our Corporate Partner.
News & Events
Last Concert
Saturday 27th May 2017
Haydn - The Seasons
The Guinness Choir performed Haydn's The Seasons in the RDS, Dublin on Saturday 27th May 2017.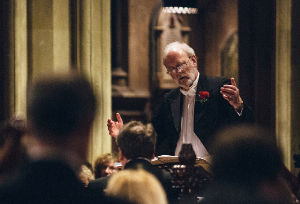 Calling all singers!
Are you interested in choral music? Do you like to sing? Would you enjoy making good music in a large choir?
If so, the Guinness Choir would like to hear from you - especially tenors and basses!
Go to the Contact page.