Notes
Thank you ...
Special thanks to our new principal sponsors DPS Engineering who are committed to the Choir for three years commencing January 2016.

Next Concert
To be announced ...
The next concert will be announced soon.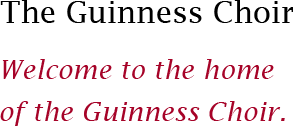 Introduction
The choir, formed in Dublin in 1951, has developed an extensive repertoire of classical and modern works, and John Dexter, who succeeded Victor Leeson as musical director in 1984, continued this tradition. David Milne has been musical director since 1991.
Many distinguished Irish and international soloists have sung with the choir over the years. The Guinness Choir is also committed to supporting emerging Irish talent and in recent years many young singers have appeared with the choir.
The repertoire of the choir spans the centuries from early music to the present day - from Monteverdi's 1610 Vespers through to Andrew Lloyd Webber's Requiem, John Rutter's Psalmfest, Gerard Victory's Ultima Rerum and Rhoda Coghill's Out of the Cradle.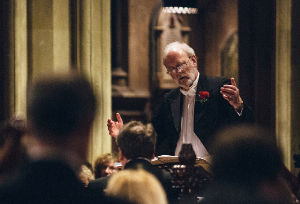 Calling all singers!
Are you interested in choral music? Do you like to sing? Would you enjoy making good music in a large choir?
If so, the Guinness Choir would like to hear from you - especially tenors and basses!
Go to the Contact page.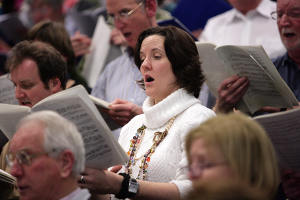 News & Events
Last Concert
Saturday 10th December 2016
Messiah in Birr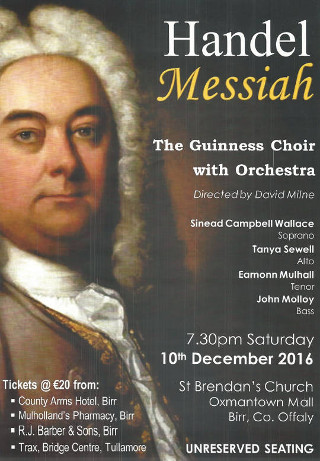 The Guinness Choir and Orchestra, directed by David Milne, performed Handel's Messiah in St. Brendan's Church, Oxmantown Mall, Birr, on Saturday 10th December 2016.
The soloists were Sinead Campbell Wallace (Soprano), Tanya Sewell (Alto), Eamonn Mulhall (Tenor), and John Molloy (Bass)